Why become a falconer?
We're a fun, creative, and curious bunch of people who are super excited about bringing tech and companies closer for a better tomorrow. We offer flexible, purposeful, and autonomous opportunities that suit your lifestyle. Sounds right up your alley? Find your place at Falcon now.
01

You do you because we've got you covered

We love seeing you thrive, so while you aim for the stars, we make sure we're always there to have your back. As cheesy as it sounds, the ride is better when you're surrounded by people who care about you and are ready to invest in your ideas and needs. We're committed to maintaining an empowering and nurturing work environment where each falconer feels valued and motivated to grow.

02

We celebrate every victory

We know how much work goes into every task, so why not acknowledge even the smaller wins while en route to the big finish? We love what we do, but we also need some fun to keep us in high spirits, so such achievements make for the best excuse to unwind and bond with other falconers.

03

We're restless learners

What can you expect as part of a team that never settles? You will constantly be encouraged to broaden your horizons and experiment with new things. Did you come across a state-of-the-art technology and are ready to dive into it deeper? Or perhaps discovered a high-potential specialty that requires a bit more expertise? Rest assured, you'll be supported throughout the entire learning process. What's more, we also encourage falconers to take part in soft skills training, which we believe is equally important.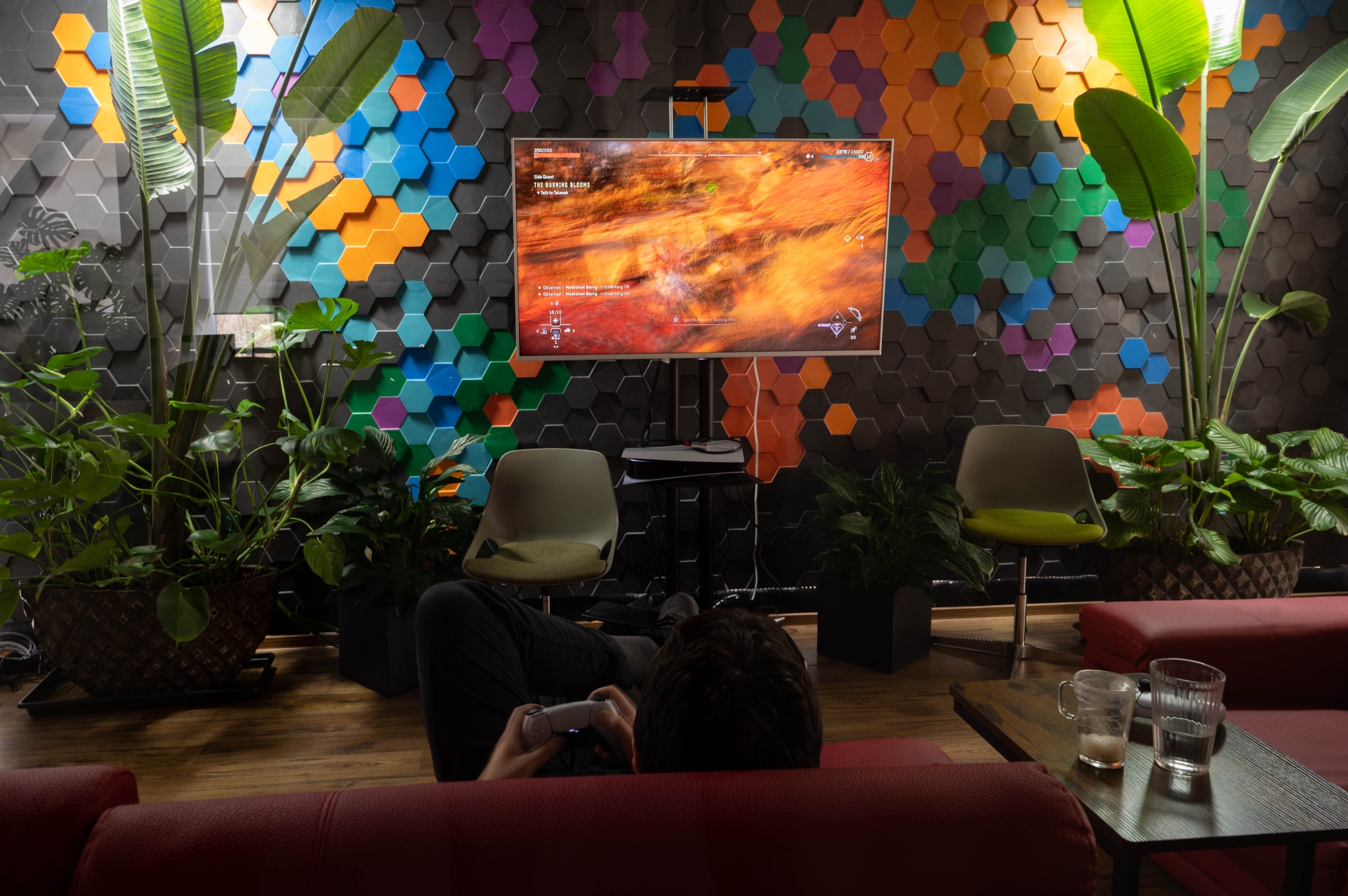 Andrei

Working at Falcon has been a truly enriching experience, particularly because it offers me the opportunity to constantly expand my knowledge. What stands out the most to me is the multicultural and unique perspectives our clients bring to the projects. They come from all sorts of industries and parts of the world, which allows me to gain valuable insights and viewpoints that I would not otherwise be able to attain. I particularly enjoyed working with companies that are the end-users of our products because, in addition to the reasons mentioned above, it is much easier to understand the needs of our target and cater to them.

If you're considering joining Falcon, I encourage you to take up the opportunity. You will have the chance to learn all sorts of new things and be part of a team made not only of co-workers but also friends who are ready to help anytime. As for companies looking for a new partner, I can assure you we will make the impossible possible.

Bogdan

The culture revolves around career growth, and you're always encouraged to challenge yourself to widen your horizons. Falcon offers a remarkably welcoming, nurturing, and friendly work environment, which made my professional journey even more meaningful. To all those who are just kickstarting their careers as programmers, I hope you'll join us and enjoy the many opportunities that will enable you to realize your full potential. We have something for everyone, so even if you're more experienced, rest assured, there are plenty of elaborate projects to pique your interest.

Petronela

In my role, each day presents a new challenge and learning opportunity. I enjoy the problem-solving steps of every project and the practical applications of what I've learned over the years in the field of Microsoft Dynamics. Falcon is a nice place to work. It is built upon a truly people-oriented culture where you're part of a team that's focused on helping our clients and employees prosper. All my peers are amazing, extremely talented, and always around to support and help you grow in times of need.

Although we're very hardworking, we also like having fun from time to time. Teambuilding activities are one of the things I always look forward to and find especially enjoyable and rewarding.

Maria

I've been at Falcon for almost 5 years now, and it's been a really rewarding experience. The exposure I got while working with different clients boosted my industry knowledge and commercial awareness. I appreciate the camaraderie in the office between all levels of employees and the flexibility of the job, which enabled me to grow professionally and personally.

I am currently working on 2 projects, and although there have been a few challenges, I enjoyed being part of a very supportive and helpful team and learning all sorts of new things. People have always been the heart of Falcon, and coming to work feels more like coming to see your extended family. Despite the pandemic, I still feel the human side of the organization. Even before, I remember all of us hanging out together at the office, knowing each other on a deeper level, talking and joking around during the lunch break, and having great team buildings.

It's an awesome place to start your IT career, as you're surrounded by experienced people to learn from and have plenty of opportunities to develop as a person too. Joining a company with a flexible environment means you are free to create your own work routine and mold it to your own style and needs. We also have plenty of parties and socials where you get to mingle around and meet people from other teams.

To the companies who are considering working with us, I hope you can see how passionate we are about what we do and how much value we can bring to your business. I don't want to brag, but we strive to deliver products close to perfection, and that's what makes us even more worthy of your time and trust.

Adrian

What I enjoy most about my role are the technical challenges and the variety of work, which is exactly why I particularly liked completing a recent project on the latest version of Dynamics. I faced a few difficulties with the new development environment and the way of work that came with this update, and I also had the chance to design and build a new framework for the product that was upgraded to this new version of Dynamics.

Our greatest strength is that we support each other every day, all the time. I always look forward to gaining more experience in technologies related to or which interact with Dynamics, building more D365 products, and sharing all this expertise with my peers. The atmosphere at Falcon is welcoming and easy-going. You're part of a young, proactive, and experienced team that puts great emphasis on customer needs. There are always plenty of exciting projects to take on, so why not join us?

Ana-Georgiana

I first heard about Falcon during the second semester of my final year in the ERP module. The professor announced that the company would open a student society, and there would be an opportunity to join them as a full-time employee at the end. In order to become a member, I was required to get a high mark in a certain exam. Considering that I was about to graduate, I decided to give it a shot and luckily passed with flying colors.

As time passed, I felt like I was cut out for Dynamics, and I should pursue a career in this industry. After finishing my dissertation, I became a full-time developer at Falcon. The training was great - I was endowed with an amazing mentor who explained everything clearly and in great detail. He was always patient, regardless of how much I struggled to understand certain things at times. He would draw me diagrams and spend a lot of time answering my questions, pointing out my mistakes or how to correct them, and overall, helping me improve myself.

It's been almost 5 years now, and I still feel like I landed in a great place. Every day brings new challenges, and I constantly have opportunities to broaden my horizons. The schedule is remarkably flexible, and I genuinely enjoy working here. The colleagues I usually collaborate with are very experienced and always happy to share their knowledge with others. The employees and customers are at the core of everything we do, and this creates a gratifying sense of community.

What stands out the most to me about Falcon is the recognition you receive for your efforts. It empowers you to contribute even more. I believe it's a great place to set off on your growth path, considering you'll receive unconditional support and be encouraged to develop yourself by an amazing group of people.

Estera

I graduated with a Business Informatics degree from the Faculty of Economics and Business Administration back in 2017. From the beginning of my studies, I always wanted to learn how to code and found programming languages intriguing. By the time my final year came around, I was still undecided on what technology to choose. In the last semester, we covered Axapta, which I really enjoyed. After presenting my dissertation, I was recommended to go to Falcon to discuss possible hiring.

I was impressed by the work environment, the opportunities to discover new technologies, and the possibility to pursue further studies while having a flexible full-time job. I accepted the offer and started training shortly after. It was a pleasant experience - there were many other juniors joining at the same time, and we all learned the same things at the beginning and talked to each other a lot. Plus, we shared the same mentor.

After 3 months of Axapta, each one of us was assigned a personal mentor, and we began our individual training projects. Over time, the projects we worked on together formed us as a team and helped us bond on a more personal level too. Whenever I encountered a difficulty, there was always someone ready to help me - this must be my favorite thing about Falcon. There is a strong support system that allows us to effectively discuss problems and get things done.

Falcon always encourages us to continue our studies and also has a great collaboration with the local academic environment. As I was passionate about my education, I decided to pursue a master's degree while still working here. I was able to manage both my postgraduate studies and the job at the same time, thanks to my peers who were incredibly understanding. Moreover, the clients were also considerate of my situation, and we discussed my availability and time zone differences so we could maximize the remaining time and have a better schedule for meetings. Another thing that really helped was that I was allowed to take days off when I had exams.

Even upon graduating, my experience working at Falcon remained very pleasant and rewarding. I've been able to freely express my creativity, particularly in regard to the development process. I feel especially comfortable with my peers and the projects we develop. I always receive help when faced with a difficult task and receive recognition for my good work. You get to collaborate with really receptive clients, meaning you're free to recommend new functionalities and lay out any ideas that could benefit them.

Falcon provides a friendly and flexible community-like work environment where we're all there for each other on a regular basis. We're a highly motivated and reliable team that takes great pride in our customers' satisfaction with our services and the long-lasting partnerships we've managed to build and nurture over time. This is the best place to sharpen and diversify your skillset, all while enjoying a good work-life balance.

Outside of office hours, we have plenty of parties, team-buildings, games, and trips together organized by the company, which enables us to get to know each other better and exchange ideas and advice about both work and personal life. From my experience, Falcon has helped me grow professionally, and I will be forever grateful for the training, support, patience, and empowerment received.

Ana

Falcon strives for a team-oriented, open-minded culture that provides support and education to grow in your area of interest and fosters a sense of belonging. These combined elements enable us to reach a high level of success. Among the many things I cherish about working here, I specifically value the relationships we form with our clients, which usually lead to long-term collaborations. The sense of unity within our team pushes us to help each other find the best solutions when problems arise.

I am proud of our consistent problem-solving attitude, which means we always look for a way to fix things for our clients, even when it forces us to go out of our comfort zone. I hope our strong work ethic and ability to build close bonds with our clients will allow us to prosper even more in the future.

As for newcomers, they enjoy an amazing support system. They get to capitalize on everyone's vast expertise and availability to help, making their learning journeys as smooth as possible.

Georgiana

Every day working here is full of learning opportunities, and with the support I receive from my peers for both professional and personal development, the job becomes a highly enjoyable experience. Falcon fosters a relaxed yet exuberant environment that promotes freedom and flexibility. Programming is my passion, and I have the opportunity to work on numerous engaging projects. Among them, my favorite is the one I've been working on for almost 7 years. What makes it stand out the most is the talented and eager-to-succeed team I've had the pleasure to work with.

Our work speaks for itself. We are devoted and enthusiastic, which enables us to develop long-lasting partnerships with many returning clients and deliver great results.

Cosmin

I am currently in my final year pursuing a Bachelor's degree in Business Informatics at the Faculty of Economics and Business Administration. I came to Falcon on a scholarship to train for my future career. Despite having already published my very first fantasy novel and having a strong passion for creativity, I am equally passionate about the digital world. It was during my exploration of my dad's job that I came across ERP, and that's when I finally found my career path.

Seeking to delve deeper into ERP, my professor encouraged me to join Falcon, and that's how my AX journey began. Currently, I am in the midst of training and honing my skills by completing various tasks assigned by my mentor. Looking towards the future, my aspirations involve completing my studies and reaching the end of this learning program. Ultimately, I hope to join Falcon as a full-time employee, where I can continue to improve, absorb new information, and become part of the welcoming and easy-going Falcon family.

Alina

I am currently in my final year pursuing a degree in Business Informatics at the Faculty of Economics and Business Administration. It was through my sister that I first learned about Falcon, but it was my professor who introduced me to the internship opportunities at the company and convinced me to take the leap. Initially, I had concerns about balancing university and work life, but taking this risk has proven to be the best decision I've made thus far.

As I look towards the future, my goal is to gain more expertise and grow within the company. I highly value my peers and the work environment at Falcon. The level of professionalism demonstrated by all my colleagues is commendable, and they consistently support each other at every step. Additionally, they are always willing to help junior team members learn new things without making them feel inadequate or less knowledgeable. It is this supportive and collaborative atmosphere that makes me eager to continue developing my skills and contributing to the success of Falcon.
Vasile

I truly value working in an environment where I can focus on the future and the innovations that propel us forward. Being involved in the adoption of new technologies for Falcon has been a particularly engaging part of my role. I believe the culture we have built sets us apart from other organizations and challenges the efficiency-oriented corporate approach. It embraces flexibility, freedom, and places people at the center of attention, eliminating the stress of constant supervision. We adopt a simple, common-sense approach to how we do things, avoiding overcomplicated and rigid techniques, which allows us to thrive continuously.

Falcon is a place where you are constantly encouraged to concentrate on the expertise you want to acquire, rather than solely relying on what you already know. Furthermore, you can rest assured that we will always be there to assist you in any way we can. Among the many things I appreciate about our organization, I believe our support system and the trust we place in each other, which is also reflected in our partnerships, make us even more unique.

Mihai

You could say our culture is more on the peculiar side—we're like a bunch of professionals, but with a playful twist. What makes working here truly fulfilling are the exciting projects that prioritize innovation and the freedom to bring your own vision to life. It is true that Falcon may not be a perfect fit for everyone. Given our non-conformist identity, you will either thrive in an environment of independence or find it too chaotic. Nevertheless, we will still welcome you with open arms. To all the companies seeking a long-term partnership that transcends mere business, we are always here and eager to explore how we can grow together.

Alexandra

After high school, I was undecided about what I wanted my career to be. I tried art school for one year but realized along the way that I would find more fulfillment in a technical field. So, for my undergraduate studies, I chose to pursue a computer science degree.

The modules on algorithms and problem-solving were really enjoyable, but my one true love ended up being artificial intelligence. I found it to be a fascinating and challenging field that proposes novel ways of solving complex problems. Here at Falcon, I have the opportunity to work on something I'm passionate about in a great environment, developing ingenious products using AI.

It was great that, despite having no prior experience, I received plenty of training and enjoyed the chance to learn while working on cool mini-projects with the help and guidance of my coworkers. The tasks ranged from experimenting with medical imaging to developing object recognition networks. However, my main focus now is on computer vision.
Constantin

It's quite hard to get bored in our line of work because we get to learn and experiment with new things daily, and that's what I like most about what I do. For example, I recently had the chance to build an app from scratch using a new tech stack, which was particularly interesting and exciting for me. However, what gave me the most joy was seeing people actually use it at their workplace and the value it brought to them.

Falcon provides a very conducive environment for assimilating new information and improving your skillset. In my opinion, what strengthens our position in the local scene is the complete freedom of choice we have when it comes to the technologies, languages, and frameworks we pick to work with. It's a great place to kickstart your professional journey if you haven't already decided what career to pursue. You have the opportunity to explore whatever piques your interest and find your path forward.

Claudia

The flexibility you enjoy at Falcon is definitely unmatched. What motivates me the most and makes my work meaningful are the clients' feedback and the amazing relationships I can build with them. I enjoy being helpful, and this makes me feel even more valued.

Cristian

Working at Falcon has been a pleasant experience from many points of view. I appreciate the flexible working hours, the informal environment nurtured by easy-to-approach department leaders, and the fun and dynamic atmosphere at the office. We enjoy pushing ourselves to the limit, so we constantly encourage each other to discover and work with cutting-edge technologies.

One of the projects I found to be the most rewarding was an advertisement platform I designed for clients to upload photos and videos of their products. In addition to the main functionality, I also incorporated an online shop with integrated payment gateways and shipping services.

I believe Falcon is a good career starting point because each department has plenty of talented developers who are always ready and happy to share their expertise with juniors. We are a highly reliable company with vast experience in the software development industry, and I am excited to see what the future holds for us.

Adelin

Upon graduating from the Faculty of Automatic Control and Computer Engineering, I already knew that I wanted to pursue a career in the IT industry. However, considering that the field has many areas of expertise, I wasn't sure which one was the most suitable for me. After applying to several jobs, I received an offer to join Falcon's web development department. This being my first job, I was both excited and worried at the same time, primarily because I wasn't sure what to expect.

Taking into account that my knowledge related to web development was relatively limited, I started training to familiarize myself with some of the technologies that I was going to work with in the future. One of my favorite things about Falcon - and what really emboldened me - are my peers. Always friendly and ready to help, they made me realize that no matter the problem, there will always be someone happy to answer my questions and show me the right method.

Once the training period was over and as I finally started to get a grip on web development, I was assigned all sorts of tasks from different projects. Like in any other industry, the beginning is always hard, but with the right support system, the journey becomes much more pleasant. Since joining Falcon, I have acquired plenty of expertise in the field and discovered just how much new information there is to uncover every day.

Iulia

My journey at Falcon started timidly while I was a student. Out of pure curiosity and perhaps the motivation that every young person at the beginning of their career has to learn as much as possible from knowledgeable people, I decided to join the "Big Data" workshop. That's when I had the pleasure of meeting two of my current co-workers. As the weeks passed and the end of the course was approaching, I realized this was not the path I wanted to pursue, despite discovering plenty of interesting concepts throughout the workshop. Like I always say, there is nothing to lose from such an experience, only to gain, and that's exactly how it went.

Fast forward to the end, and the road leads me back to Falcon. Looking back on my student days, web development was not my greatest passion, but I was truly intrigued by its complexity and diversity. Seeing that Falcon was looking for people to join its growing team and there was an opportunity to explore this field, I didn't think twice and told myself, "This is an experience not to be missed, and I really want to meet the web team."

What I appreciated the most about the training period was the availability of my highly-skilled peers and their willingness to help a newcomer, a student who had just graduated and required close guidance. They are the ones who sparked my interest, shaped my ideas into something more, corrected my mistakes, and empowered me to grow further.

As a software developer, the autonomy and flexibility I encountered here cultivated my creativity considerably. Not having to follow a template or being constrained by the use of outdated technologies, in addition to the freedom to propose and implement new solutions, made me genuinely love what I do. And with that, we're reaching the last part of my little story - the future.

As you've probably already figured out, my journey as a programmer ends here. Just kidding! My future in the company will continue on the same growth path as a developer. How could I miss the rest of this adventure?! There's still a long way to go to become an experienced programmer who will one day help others kickstart their careers. I have to keep exploring, trying, making mistakes, and learning. I can only be grateful that in the midst of my professional development, I am part of a young and dynamic team that will propel me even further.

Adrian

Although I graduated from a high school with a computer science background, I ended up studying at the Faculty of Electrical Engineering, Energetics, and Applied Informatics. Over time, I felt like it was less and less suitable for me, so I decided to look somewhere else. I heard about Falcon from a friend, and considering that their area of expertise aligns with what the market is seeking and I had already managed to teach myself a bit of front-end development, I figured it could be a good career path.

Once I landed the job, I entered a training period of about 3 months, during which I had the chance to grasp back-end development, and I'm now in the midst of learning .NET. I am currently working on a project that involves databases, and my task is to come up with the logic behind the web application. Additionally, I also take care of the authentication and account management aspects. Essentially, I prepare and generate the information required by the front-end developer who will create the application's interface.

There are plenty of things that I cherish about Falcon, but I particularly appreciate the support system, the open mindset, and my awesome peers. I also enjoy coming into the office from time to time because of the dynamic environment that stimulates me to do better and, perhaps most importantly, the amazing coffee haha!
CURRENT OPENINGS
Internships & Scolarships
Our scholarships seek to encourage students to explore and assimilate technologies. They provide a great way for undergraduates to experience a dynamic work environment and the professional world, while also learning what it means to be a programmer. This opportunity enables them to determine whether this career path is a good fit for them. It is important to note that these scholarships are not meant to constrain students to join Falcon upon graduation; they are strictly an opportunity to get a feel for work life at Falcon.
The internships are designed to allow both Falcon and the intern to evaluate our compatibility and see how a possible collaboration could evolve from there. They also aim to demonstrate how well we align from a technical point of view. This creates the right context to gain a more insightful perspective on how we operate behind the scenes and how one could integrate into the team.
We do not require any prior experience for these opportunities. As long as you are a responsible individual willing to step out of your comfort zone and learn about and explore the tech world, buckle up, because you're in for a ride!
No open positions at this time
Professionals
Want to contribute to something bigger and help re-envision how businesses operate?
You're in luck! We're looking for enthusiastic and proactive people to join our mission: to make ideas come alive through purposeful and carefully crafted digital products. Enjoy a career in a fast-growing and ambitious work environment that exponentially bolsters your potential. Find where you fit in below and become a part of our amazing team now!
No open positions at this time
RECRUITMENT
PROCESS
01

Apply

Fill in the application form on our website or apply with LinkedIn for the role that suits you best. You can then expect to hear from our HR colleague within the next 2 weeks. Alternatively, if none of the existing job posts fit you, you can find a questionnaire at the end of our Careers page where you can tell us more about your skillset and why we could be a match.

02

HR Screening

You will be invited to a short exploratory chat (around 20 minutes) with our HR colleague, during which you will learn more about what Falcon is all about, the role, and the following steps of the selection process. The main purpose of this meeting is to explore how well we align with each other.

03

In-person discussion

If you successfully pass the previous stage, within 1 week from the HR screening call, you will be contacted to book a face-to-face meeting (around 1 hour) in our cozy "office nest." This is when you will gain a better understanding of our culture and what it means to be a falconer, while we explore how you fit in with our values and goals on a deeper level. For those roles that require a bit more attention and a higher level of expertise, the applicant may be invited to a second interview.

04

Decision

Our HR falconer will get in touch with you within the next 2 weeks following the last interview to provide feedback and inform you of our final decision regarding your application.
REGISTER YOUR INTEREST
No suitable roles available?
We're always on the lookout for enthusiastic and perseverant individuals to join our growing team. Are you a student seeking to level up your skills? Or a professional searching for your next adventure? Register your interest and let's explore how we can build digital products that matter together!